Instruction Manual
Specifications
| | |
| --- | --- |
| Capacity | 3.4 lb. |
| Dimensions | 16.4"h x 7.9"w x 7.9"d |
| Mounting | Hang |
| Squirrel-Resistant | Yes |
| Construction | Metal & plastic |
| Made In | China |
Birds That Use This Feeder
American goldfinch

Bunting

Cardinal

Chickadee

Grosbeak

House finch

Nuthatch

Pine siskin

Purple finch

Redpoll

Tufted titmouse
Type Of Feed
Mixed seed

Sunflower
Customer Reviews
Write a Review
Ask a Question
04/01/2021
Ed G.

United States
Birds don't like it
Bought this to keep squirrels out. That part works but Birds just don't go to it. I love the looks but, in over a week we have not had more than a few birds, eat from it. The food level has changed only slightly so I know they are not eating from it. Other feeders in the area, with squirrel deterrents also, will use about a quart apiece per day of bird seed but not this one. Birds will fly towards it and then turn away. It doesn't matter what size bird from wrens and finches to sparrows or cardinal size. I think the problem is the shielding just over the feeding ports that is the issue. They either don't see the place to land, due to the overhang of the shield, to get the food or they are not "comfortable" or safe perching there. We have other feeders that are attracting numerous birds of various size, but they avoid this one. Tried it by itself or with other feeders in proximity, but still not seeing any birds going to it after being up over a week.
Hi Ed, Thank you for your review of the Squirrel-X MX5 Squirrel-Proof Bird Feeder with Spring Loaded Perches. We are happy to know this feeder is doing a great job at keeping the squirrels away! We are very sorry that you are not seeing birds on your new feeder, however. Birds are creatures of habit, and it can take them days or even weeks to use a new feeder. There is something new in the yard that they are not used to, and they need to warm up to it first. Temporarily placing the feeder near a shrub or tree where birds will feel safe can also encourage them to explore the new feeder (once they've discovered it, place it far enough away from a tree so that the squirrels won't get to it). We would suggest temporarily removing other feeders in the area so that the birds must use the new one. Oddly enough, filling the feeder half-full seems to help attract the birds to the new feeder. Adding something like a colorful ribbon can also help, as the movement in the wind can make the birds feel like another bird has found the feeder to be safe. We hope that the birds begin to use the feeder soon, and please keep us updated! If you have any additional questions or concerns, please call our Customer Service Department at 1-800-352-9164. Thank you for flying with our flock!
01/23/2021
Denny K.

United States
Do NOT buy
I spent money for what I thought was a dependable bird feeder that the squirrels would not be able to get bird feed from. Two times I filled it with peanuts, only to have it emptied within days. This last time I went out through the snow to retreave it, only to discover the entire bottom was disconnected, on the ground covered with snow. Very disappointed!!! I would like my money back!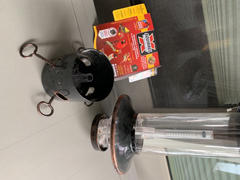 Hi Denny, and thank you for your review of the Squirrel-X MX5 Squirrel Resistant Bird Feeder. We are sorry to hear that your feeder was accessed by some critters. The key to successfully keeping a feeder squirrel-proof is its placement. Squirrels are agile and are able to jump up to 8ft horizontally and 4ft vertically. For this reason, we recommend that feeders be placed 8ft away from any structures that they can climb on so that they do not reach across to access the feeding holes. It can be helpful to trim back and prune any nearby bushes or branches within 12ft of a feeder. We also recommend that feeders be placed higher than 4ft off the ground, preventing the squirrels from jumping and grabbing onto the bottom. If you are using a hook or pole, we recommend that the hook have at least a 16in distance from the pole. Placing a baffle on the pole or having a caged feeder will also help to ensure squirrel-proofing success. We will gladly accept returns within 30 days of purchase on unused or defective items for a full refund. If you purchased the feeder from a retailer, you will need to return it to the store and ask for an exchange/refund from them. If you have any other questions, please reach out to our Customer Service Department at 1-800-3520-9164 or email them at consumerservices@classicbrands.net. Thank you for flying with our flock!