Specifications
| | |
| --- | --- |
| Capacity | 1.7 lb. |
| Dimensions | 6.75"h x 5.75"w x 7.75"d |
| Mounting | Hang |
| Squirrel-Resistant | No |
| Construction | Plastic |
| Made In | China |
Additional Information
Cleaning: Dirty bird feeders spread disease. We recommend cleaning your feeders weekly, or monthly at a minimum. Do not put your feeder in the dishwasher as the high temperatures can permanently damage the feeder parts. Clean your feeders outdoors with a large bucket, and always wear gloves when cleaning. Soak your feeder in a 9:1 solution of water and bleach for 15 minutes. Then use a bird feeder brush to scrub the feeder with dish soap and water. Refill when completely dry.
Birds That Use This Feeder
American goldfinch

Bunting

Cardinal

Carolina wren

Chickadee

Dark eyed junco

Grosbeak

House finch

Nuthatch

Pine siskin

Purple finch

Redpoll

Tufted titmouse

Woodpecker
Type Of Feed
Mixed seed

Sunflower
Customer Reviews
Write a Review
Ask a Question
04/26/2022
Mike

United States
Love this feeder!!!
My interest in birds is fairly new. This hopper feeder for ~$12 is great! I'm using sunflower seed chips and pieces, so it is less messy than whole black oil sunflower seeds. Two days after I hung the feeder in the middle of my yard, the chickadees found it. Then the house finches, the goldfinches, the cardinals, and the sparrows. I'm having a blast watching it. Great little investment.
05/22/2021
monse d.

United States
Great feeder
I bought this for my smaller birds, I have a family of doves that take over any of the larger feeders and discourage the smaller birds but this one is almost perfect! every once in a while they'll try and succeed but for the most part they leave it alone. it's a nice size and easy to clean.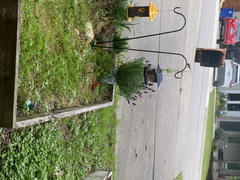 Hi Monse D., Thank you for your review of the More Birds® Ranch Hopper Sunflower Bird Feeder, 1.7 lb. Capacity. We are delighted to see your overall satisfaction with this feeder. If you have any other questions, comments or concerns, please do not hesitate to reach out to our Customer Service Team at 1-800-352-9164. Thank you for flying with our flock!